What's not to love about the no-sew blanket trend? Since it took off, the internet is rife with different takes on this simple, cozy classic. People everywhere put their creative minds to use to make the most beautiful, functional, cuddly blankets for when it gets cold. Whether it's time for lights out or winter is coming, there's always an excuse to bust out these clever home accessories.
Now, you've got the motivation, but you're still unclear on how to make a no-sew blanket, and which type? Your time is precious and shouldn't be spent scouring the internet for the best no-sew blanket tutorials. How many versions of the no-sew blanket are there, anyway?
Well, look no further. We've compiled everything you need to find the no-sew blanket that's right for you. And what's more, when you've chosen the perfect style, you can head straight to the talented maker's blog and get a step-by-step guide! Check out our hand-picked selection of no-sew blanket tutorials that feature every variation you could dream of. Let's go!
1. The Double Layer Fleece Blanket with a No-Knot Edge
Let's start with a funky twist on the no-sew blanket – literally! The materials are typical: two pieces of fleece, measuring tape and scissors. However, the edge technique is where things get interesting! This fabric-flip style is just as simple as the classic tie-blanket but with an unexpected flair!
For this tutorial, check out the Bags of Love YouTube channel for our this and more wonderful tutorials with custom printed fabric! We're a crafty bunch here at Bags of Love, and what's a better place to play with fabric than our facility? We print tons of fabric every single day for crafty folks like yourself!
Once you've jazzed up your pieces of fleece and perfected your no-sew blanket, you can browse our YouTube channel for other tutorials, fun videos and more! We're always on the lookout for more fun crafts, so if there's something you'd like to see from us, let us know!
2. The Double Layer Fleece Tie Blanket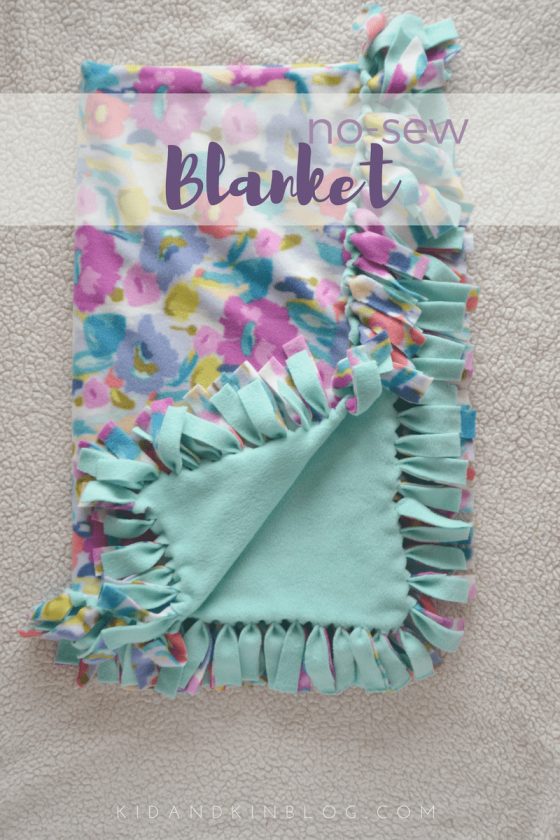 And now for the classic no-sew blanket: the tie blanket. This popular style mainly comprises of 2 layers of fleece tied together, creates a fringe effect on the edges. If you're looking for a simple method of how to make a no-sew blanket, this is an easy & fun activity for anyone to try. You don't need to be an insta-famous maker with years of crafting experience to play around with the no-sew blanket trend.
For this tutorial, check out Scattered Thoughts of a Crafty Mom, AKA Jamie Sanders, who's an expert on turning fleece into fun. If you're looking for a comprehensive, simple tutorial for the no-sew fleece tie blanket, you can find it on her blog Kind Kids Club, dedicated to teaching her children kindness in creative, organic ways.
And once you've crafted the coziest no-sew blanket to date, you can find great ways to use leftover fleece on her main blog. If you're a beginner looking to embark on a crafting journey, or a fleece-addict looking for support, Scattered Thoughts of a Crafty Mom is the best place to start.
3. The Single Layer Flannel Tie Blanket
Looking for something a bit more fashion-forward? Check out this blanket style, which is similar, but instead of making it with fleece, use flannel! The style of tie is the same, but that's where the similarities end. The result has a very different feel to that of your typical cozy fleece tie blanket.
Kristen Whitby, the genius behind Ella Claire Inspired, uses this flannel no-sew blanket as a gorgeous home décor piece with a multitude of purposes. You can throw this on your couch for a pop of color or lay it on your table to add a sprinkle of autumn, no matter the season.
Because the blanket is single-layered, Kristen's process of making the blanket differs from the average method, so check out her tutorial on making this fashionable piece for the home. How much fabric for a no-sew blanket that's home décor, you ask? Kristen uses 1.5 – 2 yards of flannel!
4. No-Sew Blanket with Braided Edge
Now we're getting fancy. If you've graduated from a no-sew novice to a big league blanketeer, it's only right you learn the no-sew blanket with a braided edge. If you're looking for more of a challenge, this gorgeous, unique take on the no-sew blanket is a must-try.
And luckily, Cutesy Crafts has you covered! Jessica is a crafting queen, posting tons of how-to videos on everything from stitch types to embroidery to crafts. According to her, this blanket is 'so much prettier than a tied fleece blanket and is just as easy'! Why not see for yourself?
If you're wondering how to cut a no-sew blanket to create the braided edge, Jessica's visual tutorial gives a simple step-by-step guide with easy instructions. You can also check out the tutorial on her blog if you're more of a reader. There's no reason not to give this style a try!
5. Double Layer Fleece No Sew Blanket Without Knots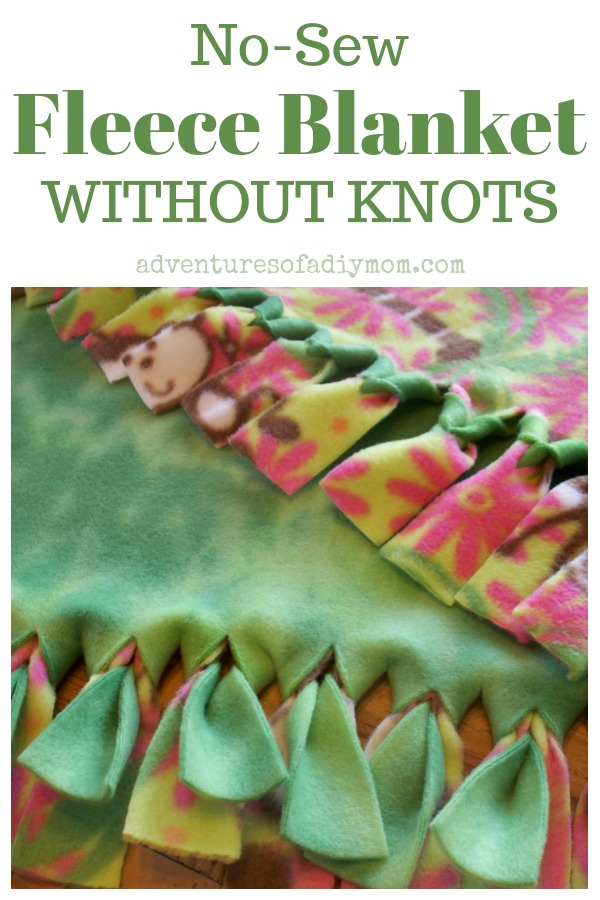 For a different style of the no-sew blanket without knots, this creative edge is unlike anything else you'll find online. The unique way of binding the two layers of fleece in a folded-fringe fashion creates a super stylish take on the classic tie blanket.
Head over to Adventures of a DIY Mom to see how Rachel has artfully created this uniquely edged blanket. A no-sew blanket without knots is a hard skill to master, but she's managed to do it and teach the rest of us in a clear and concise manner.
For this style, a different print on either layer of fleece is crucial for the distinctive edge to pop. But how many yards of fleece for each layer? Rachel says they must be equal size, anywhere from 1-1.5 yards each.
6. Single Layer Fleece Blanket Without Knots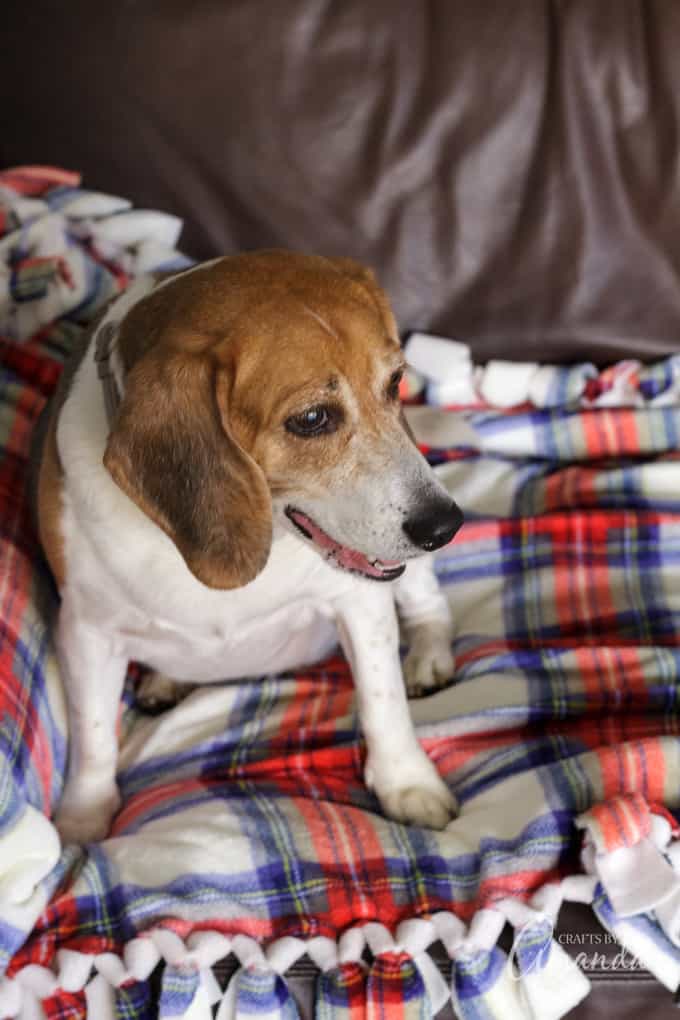 If you're looking for a different style of edge that'll make you flip, try this no-sew blanket without knots, but instead, a flipped fringe edge! This style lays flatter than the traditional tie blanket and has a more unique appearance when finished. This is a perfect blanket for anyone – from child, to adult, and even dogs!
In fact, the educational powerhouse Crafts by Amanda made this style of blanket for her sweet, adopted senior Beagle, Buddy as a heartfelt Christmas present. If you're looking for an easy tutorial coupled with sweet Christmas anecdotes, head over to Amanda's blog and get your fill of cute Beagle pics and no-sew blanket knowledge.
This is a simple, yet fashionable take on the classic no-sew blanket. It's as quick and easy as a tie blanket, but with a more creative flair! Perfect for humans and dogs alike, this style of blanket is a hit with everyone.
7. No-Sew Blanket Scarf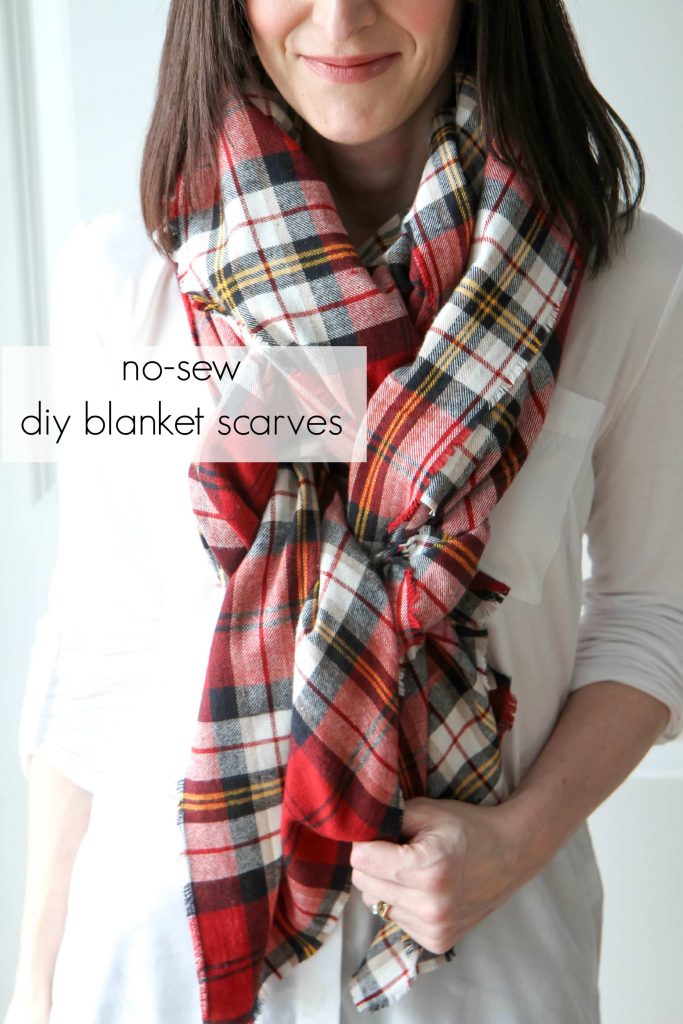 No-sew blanket but make it fashion. Yes, there is such a thing as the blanket scarf, and yes, you can make your own with zero sewing skills required! Blanket scarves are the latest trend for colder months and make wearing a blanket fashionable. What more could you ask for?
Not only is Mom Advice's Amy Allen Clark the master of the no-sew blanket scarf, but she also provides helpful tips for how to style the final product! Her super helpful blog post walks you step-by-step through the process of creating and finishes with some trendy ideas on how to style the piece!
There is nothing better than wrapping up in warm clothes on a cold day, and this no-sew blanket scarf is the perfect way to do just that! Few pieces are both cozy and fashion-forward, so there's always a reason to make this scarf!
8. Chunky Hand-Knitted Blanket
Ladies and Gentlemen, the finale! A chunky, hand-knit blanket made from thick, super-soft yarn and your own hands! No sewing or knitting skills required, just a strong desire to be as cozy as possible this winter season. Chunky hand-knit blankets are blowing up right now, so why not hop on the bandwagon and wrap up for the winter?
The easiest, cheapest way to tackle this blanket is from Do It On A Dime, who's vlog-style videos take us through the whole process, from shopping to snuggling up. And better yet, her entire channel is committed to finding the cheapest route for every creation! That means whether your laboring for a loved one or treating yourself, you can get the best result for the lowest price. Nice!
A different variation on how to make a no-sew blanket, this chunky hand-knit blanket is the perfect craft for winter with no-sew skills required! There's never a bad time to get your hands in some yarn and knit together a masterpiece!
How to Make a No-Sew Blanket
And there you have it. The 7 best ways to make a no-sew blanket. All the snuggling with none of the seamstress experience. Could you ask for anything better? Get started on one of these clever crafts today and let us know your favorite version in the comments! Now, to get my fleece printing started. I have some crafting to do…