With all of the buzzing toys, smart phones, tablets, and other expensive playthings available for kids these days, it can be a real breath of fresh air to enjoy the simpler things.
Make your kid's childhood extra special by learning how to make a storybook for children. A classic board book is a wonderful way for babies, toddlers, and very young children to learn. It helps them explore the written word, illustrations, photographs, and more. The chunky pages of a board book make it easier for them to learn how to turn pages, which helps improve their hand-eye coordination. Knowing how to make a storybook for children isn't as complicated as you might think. In fact, with Bags of Love, it is very easy.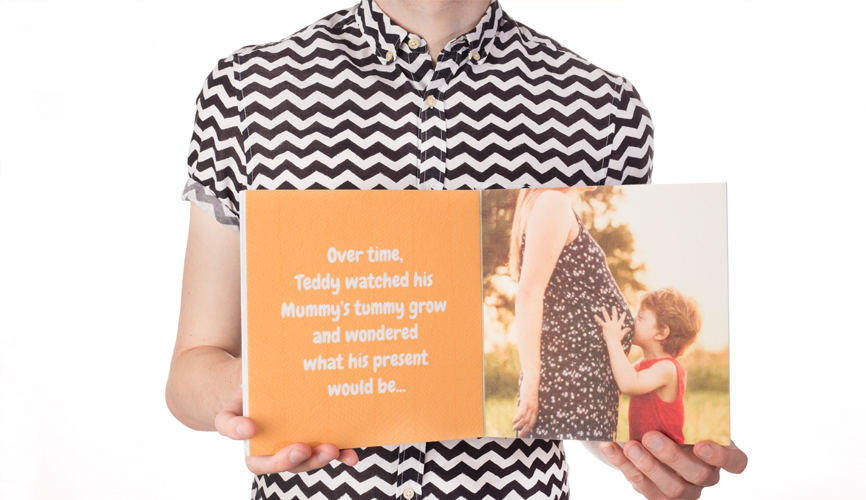 Personalized DIY storybook for children
Personalized stories are a major trend, but there are always restrictions about how much you can customize. It's not enough just to include the child's name or their photo. Learn how to make a storybook for children using our unique design interface. Create something completely bespoke that your child can treasure as a keepsake forever.
How to make a storybook for children
If this all sounds like a great idea to you but you are worried that you are not the craftiest person out there, then fear not! With our design interface, you don't have to worry about glue, or sewing, or measuring. We take care of all of that. All you need to do is come up with the story and the design. Our personalized board books make it easy (not to mention really fun) to make your own personalized children's book.
Follow our step by step guide on how to make a storybook for children, and within a couple of days, you will receive something so special, that you will want to make them again and again.
Step 1.
Head over to Bags of Love and select "Board Books" in the books category. Click on the "Start Design" button to begin creating your personalized children's board book.
Step 2.
You will now be taken to the design interface where you can select the pages you want to design. Each page is named accordingly and you can select each one individually.
Step 3.
Click on each page to choose the image you want to upload. Our design interface allows you to upload images from your computer or photo roll, Facebook, and Instagram. If you want to create a completely unique design or include drawings made by you or your child, all you need to do is scan them into your computer or take a photo of them. Then, save the image as a JPEG or PNG file. You will be able to use these saved images as well as photos. Click on the "Add Images / Text" button to make your selection.
Step 4.
Once you have chosen your image, you can edit it within the design interface. You can crop it to size, enlarge it, zoom in and more.
Step 5.
Your book needs text to turn it into a story. Click the "Images and Text Tools" tab. Here, you will see two buttons. To write your text, click the "Add Text" button. You can also add more images by clicking the "Add Image" button.
Step 6.
Use the design tools to add your text and then play around with the size, font, and color. You can even create effects and change the orientation.
Step 7.
Continue adding images, text, photos, and designs to each of the pages until you are happy with the finished results. You can go back and change things the whole time in the design process.
Step 8.
Once you have finished the design of your book, click on the "Preview and Buy" button. This will take you to the final preview stage. Here you can see exactly what your finished personalized children's board book will look like.
Step 9.
Like what you see? Click on the "Proceed to Cart" button to be taken to the payment and delivery options. Your brand new board book for your child is all ready to be made.
Step 10.
Now it's our turn! Once your design has been submitted and received, our expert team of skilled craftsmen and bookmakers work with our print technicians to create your book. Every DIY storybook is handmade by using the highest quality materials to ensure you and your child receive a book that you will fall in love with. Once you book has been made – usually within 1-2 days – it is delivered to you using your chosen delivery preference.
The finished result
Ta da! Introducing your child's very own personalized board book. You can now enjoy this bespoke story again and again. We hope they love it!
7 personalized children's storybook ideas
You know how to make a storybook for children, so it is time to consider what you want their story to be about. Stuck for inspiration? We have rounded up some of our favorite ideas. Each of these can be personalized for your child. Simply use their name, update the details to make it personal to them, and use photos or illustrations that they will love.
Storybook ideas
Becoming a big brother or sister – Are you expecting a new baby? Not quite sure how to let your children know? Do it with their own personalized book. Create a story featuring the whole family. Include photos and then make the big reveal at the end of the book. An ultrasound photo of the baby and "you're going to be a big brother/sister!"
New baby book – If you are making a story for the siblings, then why not create one for the new baby too? This is a great idea to use as a keepsake for your own new baby, or as a new baby gift for a friend or family member. Include ultrasound photos, images of the family before the baby, and include a sweet story about the newbie coming into the world.
Superhero – Is your little one is obsessed with a specific superhero? Create a story where they meet their hero and have an adventure with them. Include real images of their hero, and even Photoshop them with photos of your child. Write a simple but exciting story, which they will love.
Fairytales with a twist – Make their favorite fairytales come to life by putting them in the story. Whether they love Little Red Riding Hood, Hansel and Gretel, or Jack and the Beanstalk, you can create a personalized story where they are the center of the tale.
Boost their confidence – Is your child is struggling with something? Write them a story telling them just how special and unique they are. Help them feel good about themselves. Create a storybook with pictures of all their family and friends. They will feel loved every time they look at it.
Help them learn – Is your toddler trying to grasp their letters or numbers? Help them along the way by writing a personalized story. You can make numbers and letters fun and magical by including photos or illustrations of their favorite characters.
Moral stories – Introduce your little ones to the concept that there are all different kinds of people in the world: sizes, shapes, races, disabilities, and faiths. We might all look different but it's what's on the inside that counts.
Now that you know how to make a children's storybook and what you want to include in it, there's only one thing left to do. It's time to make it!