Custom Photo Blocks Made Of Fabric
from $42.00
Your photos are printed on smooth and silky fabric, sewn together, and snugly fitted over a firm foam cube. Make playtime fun with your very own customized photo cubes with six faces for photos or designs.
Everything made to order

Quantity discount
Create photo collage Cube

>
Automatic Photo montage
Create your collage in 5 easy steps!
1. Press "Start Design" and select product options
2. Upload your photos
3. Click and select photos to collage in the gallery
4. Select collage style & preview
5. Add to design, preview product, and proceed to buy!
Need a bit more help?
Don't be shy, it's a whole new concept!
Contact us and let us explain
Too many photos will result in very small images, so we will advise a maximum number of photos per product size. Contact us if unsure.
Personalized Picture Cube
Available in 6 sizes
Cushion fabric fit around foam cube
Bright and vibrant print
Lots of fun and easy to throw, build, stack, etc
Great custom photo gifts
Stack them, line them up, sit on them and have masses of fun with picture cubes.
A cube is an amazing object embedded in our lives from science to building. The essence of our personalized photo cube is that instead of viewing a single 2d flat image, you combine images into a multiple faced object where three different aspects of the cube can be seen simultaneously.
Available in six different sizes
4" to 20" (in multiples of 4)
4" to 20" (in multiples of 10)
Print six sides differently or the same
Firm foam inside material
Handmade to order
Reviews of
Photo Cube
Love the cube!

Such a great experience! From uploading the pictures, which was easy, to the final product, which is beautiful, I would highly recommend Bags of Love!

This is a cute and thoughtful gift to give a loved one! The quality is great and it arrived promptly.

This is a good go-to gift. The photos look great on the fabric and it really adds style to a room.
Choose 6 of Your Best Photos
No longer are you limited to just one image for an amazing custom photo gift. You now have the ability to choose six pictures and have them printed in high quality and sewn into a fun and playful photo cube. Because of the very nature of the cube, you now have an image visible from every angle and on every side. You can get photo cubes in an assortment of sizes to add to the fun, too!
Care Instructions
Surface wash only with a damp cloth.
Fire Rated: Outer cover fire rated to BS7176, BS3379 and Toy and cushion filling fiber BS5852 compliant
Personalized Photo Cube Tips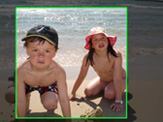 Remember when selecting photos that the cubes need 6 square images. Be sure to choose photos with obvious square crops to ensure the best quality image on the sides of your photo cube. If you are having trouble determining which photos are best to use, then leave it to us to help you out! We will take a look and select the best images for the print job.
You may also like: