Fleece Photo Blanket
Custom Fleece Photo Blankets
Create a unique, customized Photo Blanket using your own photos, text, and design. All our personalized fleece photo blankets are made using double thick, double soft, polar fleece for maximum comfort. Our easy to use online design system enables you to design your own blanket. Add text, photos, your own designs, or even create a photo collage blanket. 
from

$49.99

Bag a saving by ordering another
Buy 1

$49.99

Buy 2

$48.00 Each

(Save $3.98)
USA Shipping:$9.99 ( Other )
EU Shipping:$24.99
Rest of the World Shipping: $39.99
Create photo collage Blanket
[more info]
Create your collage in 5 easy steps!
1. Press "Start Design" and select product options
2. Upload your photos
3. Click and select photos to collage in the gallery
4. Select collage style & preview
5. Add to design, preview product, and proceed to buy!
Need a bit more help?

Don't be shy, it's a whole new concept!
Contact us and let us explain
Too many photos will result in small images. Contact us for advice if unsure!
Comfortable soft custom fleece blanket
Made from anti-pill fleece
High quality, durable and machine washable
Handstitched and sewn
Available in 5 sizes
Printing Picture Blankets
We use water-based inks that infuse the material fibers when printing our custom made blankets. This means that your photo blanket will stay colorful and vibrant, wash after wash. All our photo blankets are hand stitched to ensure that they'll preserve your design for many years to come.
As well as personalizing one side of your picture blanket, you choose from five backing colors to fit with your decor. 
Customized Blankets Care Instructions:
| | |
| --- | --- |
| Care: |  Machine-washable recommended 85 degrees F and tumble dry is ok. |
Double thick warm personalized blankets made from soft polar fleece
Hand stitched high quality finish 
Collage picture blanket available at extra cost
Picture on one side as standard
Anti-pill fleece. Machine washable at 85°F. Short spin. Do not wring. Washes without fading. Iron with medium to high setting standard iron.
Same or different photo other side + 50%

Choice of Black, White, Soft Pink, Ivory Cream, or Pale Blue for the back side of personalized blankets

Personalized Blanket for Babies, Children, and Adults!
Our custom Blankets are available in 5 different sizes to suit any age. Whether you have a fun picture blanket in mind for the kids or want to design your very own, we've got a size for everyone. For the youngest members of your family, these also make for great baby blankets personalized with your photos and text to celebrate their first years.
Photo Collage Blankets
If you want more than one picture on your blanket, you can easily create a photo collage with our simple system as well. Use all your favorite photos to desgin a fun photo collage blanket that'll brighten up your space.
DIY: How to Make a Personalized Photo Collage Blanket
Choose size and press Upload and Preview above
Press design
Add images (select image to upload, browse your computer, open, and upload photo)
Fill your mini gallery
Add image to design and scale it down (drag corner in)
Add another image to design and scale it down (drag corner or zoom)
Add more images or start to position images
Beware white space by butting the images up - be careful
Set in background color if you prefer for added effect
Add your text if you wish - get the right size and font
Position text to where you want it - check your spelling!
Reposition any images in the design for best look
If tempted be creative and convert some images to black and white or sepia (select image, edit)
Press Product on top right to get cushion preview
If happy press review and cart and confirm you want to go ahead
Have Bags Of Love Design Your Photo Collage Blanket
Although we encourage you to design your personalized blanket yourself, do not feel pressured to do so.  We would be more than happy to design the collage for you! We do have a charge for the additional time and work required to design and layout the collage.  Simply tell us what photographs you want, Upload them, and we will produce a unique, professionally designed layout (select "designer" collage), You'll then be sent a sample for you to examine and approve.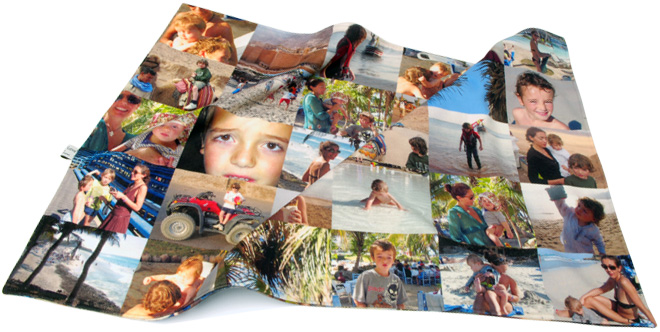 Photo Blanket 
Disclaimer: Our fabrics are not suitable for baby and children's sleepwear or bedding.
You may also like:
Personalized pillow cases with your photos and/or text for your bed.  Make a personal present for you or a close friend or family member.  

Custom Cushion Covers are a great way for interior designers or DIY-ers to spice up any room. Durable and machine washable in 3 sizes.

Create a personalized throw pillow using photos, text, or a design to instantly add to the decor of any room in the house!